Fine-tune Your Information Marketing, or Start it on Solid Ground With the Idea-sparking Insights of 73 Leading Entrepreneurs
Implement tomorrow's trends today.
Whatever your niche, this is wise advice for those who have a crystal ball. If you don't, equip yourself for the future with the next best thing: the observations, experiences and predictions of 73 marketers who make their living selling information in one form or another.
In a fascinating series of audio interviews by Rob Toth, himself an information marketer of distinction, you hear dozens of experts answer three questions:
(1) What is your vision of where information marketing is headed?

(2) What is your #1 success tip for anyone considering information marketing or already involved?

(3) And what is the biggest pitfall you feel holds individuals back from success in information marketing?
Because the experts answering these questions come from such different pockets of information marketing, with some having decades of pre-Internet experience and others having made their first big marketing splash online, the replies hardly ever repeat each other.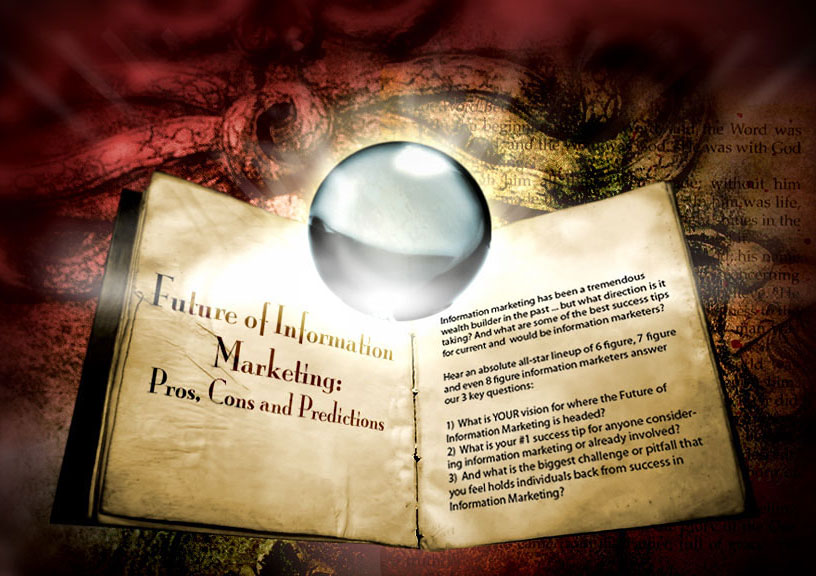 You hear priceless insights, intriguing case studies, startling predictions and take-it-to-the-bank advice. Whether you're listening to an Internet celebrity like Christopher Knight, CEO of EzineArticles.com, or someone whose name you're encountering for the first time, the content makes you think and sparks ideas.
In all, it's more than 13 hours of expertise on 12 CDs, and one listen-through certainly won't be enough. You'll want to stop and start your audio player so you can reflect on the perspectives and digest them.
Experts in the Future of Information Marketing series include:
Jonathan Mizel, an innovative online marketer since the heyday of AOL and CompuServe

Rosalind Gardner, who's turned affiliate marketing into a science

David Frey, a patron saint of small offline and online businesses

Alice Seba, whose moniker Internet Marketing Sweetie tells all

Tony Blake, a well-known discussion board owner

Suzanne Falter-Barnes, renowned on building a publishing platform

Willie Crawford, the nicest, most ethical Internet marketing guru

Leesa Barnes, named one of Canada's top bloggers

Marcia Yudkin (me!), an active info-marketer since the age of 7

And 64 other illustrious personages
I'm excited about sharing the Future of Information Marketing audio series with you because I've gotten great ideas listening to the interviews during five-mile walks. I bring paper and pen with me so I don't lose those inspirations.
It'll take me months, maybe years to implement the initiatives and changes I wrote down, listening.
Read some excerpts from the featured experts.
How much is infomarketing inspiration worth to you?
Order the entire Future of Information Marketing 12-CD audio set for $197 plus shipping, and you'll receive the CDs within a week, packaged in a binder. Your purchase is guaranteed. If you don't find it helpful, simply return the product within a year for a 100% refund.
Don't let yourself become an information marketing antique! Order today, and get a jump on tomorrow's trends now.
SORRY, this product is not currently available for purchase.