Free download: The No-Harm Marketing Manifesto
How to Market With Respect for Others,
the Planet and Yourself
Is marketing evil? Does marketing necessarily produce an overconsuming society where people are brutish and nasty to one another?

No. Find out how you can attract clients and customers without harming others, the planet or your own self-respect.
Download my free report, "The No-Harm Marketing Manifesto: How to Attract Customers and Sell So You Still Like Yourself in the Morning."
Feel free to email it to friends, clients and colleagues or to post the PDF on your blog for discussion, as long as you leave the file intact. Or send people here to download it for themselves.
DOWNLOAD THE NO-HARM MARKETING MANIFESTO
(right click on the link above and select "save as")
For an expanded 2020 version of the No-Harm Manifesto, buy it on Amazon for your Kindle reader for only $2.99.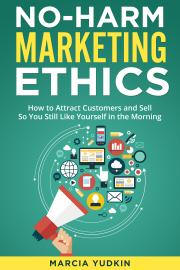 If you prefer to read it in PDF format, get it on Smashwords.