Retool Your Business or Plan Your Book Just Steps from the Beach
Create Your Own Seminar Vacation in Maui:
The Next Retreats Take Place in 2022
Imagine the expanded sense of possibility you have planning a big new project under the shade of a palm tree, within earshot of the Pacific Ocean. Picture the leapfrog progress you make with the daily feedback and guidance of a world-class marketing and publishing expert. (That would be me, Marcia Yudkin.)

Suppose too that your personal seminar proceeds at a relaxed pace, leaving you time for swimming, sunning, snorkeling and sightseeing on the magical island of Maui.



Maui Marketing Retreat: We Meet in My Back Yard
Best of all, with the blessing of your tax advisor, you are writing off the whole trip as a tax-deductible business expense. Ahhhhh...
Possible Topics for Your Week-long Maui Retreat
What you'd like to accomplish on Maui during your one-on-one seminar vacation is, of course, up to you. Possibilities include:
Make dramatic progress on a book, with my feedback on your outline, marketing plan, proposal and/or content

Refocus your business with expert advice and suggestions

Redo your web site, top to bottom, for a stronger impact and higher return on investment

Discover how to concentrate your energy on ideal clients for a business that suits your personality, income target and lifestyle goals

Create a feasible marketing plan for the coming year - or for a profitable retirement
"My work in Maui with Marcia on my book in progress met all my expectations. Marcia's laser-sharp critical thinking helped me strengthen the draft and write a powerful introduction. With her encouragement, I also made excellent progress on a new, rather challenging chapter. Because I recorded the sessions, I can listen to Marcia's advice again when I am ready to complete the tasks we discussed.

"As for the accommodations, I enjoyed opening the sliding door and taking my laptop outside to my private patio. The pool and beach were just a minute away, and an incredible variety of restaurants were within a 10-minute walk."
- Lynn Gaertner-Johnston, Founder, Syntax Training, Seattle, WA

Lynn Gaertner- Johnston Working on Her Book, Business Writing With Heart, in Maui
Maui Marketing Coaching:
Your One-on-One Seminar in Paradise
Call it consulting, call it a seminar, call it the new buzzword "bizcation," or call it creative loafing, the deal is that you get my advice every weekday for one week for $1900: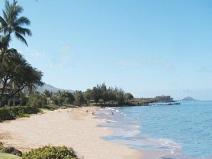 Maui Marketing Retreat:
We Work Steps Away
From This Beach
Prior to your trip, we talk by phone, planning your retreat

You arrive in Maui, Hawaii on Saturday

Relax on Sunday, enjoying the beach or seeing the sights

On Monday, meet three hours with me and have the rest of your time free

Tuesday through Friday, meet an hour with me and have the rest of your time free - for fun or work or both

Leave Maui (sigh!) for home on Saturday

At home, have two follow-up calls with me to consolidate what you accomplished and receive further feedback.
Want more island time for your project? Extend the schedule to two weeks, with a schedule similar to the above - an hour-long consultation before and after your trip, three hours together on the first day and one hour every weekday thereafter. Your two-week seminar fee is $2600.
Can you come to Maui as a twosome and receive the above? Sure. If a pair of you work together, then come to Maui together and you get the same private seminar schedule described above for two at the same price, $1900 or $2600.
(Interested in coming as a small group of friends, each having a different business? Ask me for a deal on a Mastermind Week...)

| | |
| --- | --- |
| Our meetings take place in Kihei, Hawaii, on Maui's South Shore, across the street from Kamaole Beach II. The nearest airport is Kahului. | |
Lodgings Available, Too
But where to stay? To avoid the confusion of trying to make hotel reservations in a resort setting you have not yet visited, you have the option of staying in a studio condo at the Maui Banyan complex in Kihei.
It's set up like a standard hotel room, with two double beds, private bath with a shower, private lanai (patio), TV, microwave, coffee maker, refrigerator and air conditioning. Included are beach chairs, beach umbrella, snorkel sets and beach towels. The property has wi-fi inside and out, two newly renovated swimming pools and hot tubs, a tennis court and numerous BBQ grills, and it's a one-minute walk to South Maui's best swimming beach.


Stay Here Inexpensively

Normally renting for $139 a night plus a one-time cleaning fee of $90, the studio unit is yours for seven nights for just $850 and no cleaning fee (plus 14.42% Hawaii state tax). Maximum occupancy at this special retreaters' rate: 2 adults.

If you prefer luxurious accommodations, kitchen facilities or a place for your whole family, I'll suggest nearby resorts or condo reservation services that can help you find an upscale condo or villa to stay at in Kihei or nearby Wailea.
You may not need to rent a car during your stay. I can recommend an inexpensive shuttle service to and from the airport; there are more than a dozen eateries within a short walk; the concierge desk at our condo complex can book you on enjoyable one-day tours, outings and luaus; you can rent a bicycle or motorbike to get around; and there's extensive public bus service as well.
Tax-Deductible, Really?
IRS publication #463 says, in part, "Count as a business day any day your presence is required at a particular place for a specific business purpose. Count it as a business day even if you spend most of the day on non-business activities." For your one-on-one seminar, your presence is required Monday through Friday.
"It was very helpful for us to be away from the distractions of our
work-day environment, taking time to think and talk about where our business is and where we want it to go. It also helped to have someone whose advice we trust acting as an outside objective sounding board. With Marcia's help, we came up with concrete ways to increase our income. We expected straightforward, honest, practical, thoughtful, analytical advice and that is exactly what we got - along with several ideas we wouldn't have thought of ourselves.
"The condo room was fine and very convenient for people combining work and vacation. Thanks so much for everything, Marcia!" - Verna Myers, Graphic Design and Printing, Chico, CA
How to Reserve Your Vacation Seminar Slot
The best weeks get snatched up quickly. If you like the idea of receiving intensive business or writing feedback in an intensely beautiful and relaxing setting, reserve your slot now with a $300 seminar deposit for each week.
The $300 seminar deposit is fully refundable for 7 days. The remainder of your seminar fee is due no later than 30 days before you arrive in Maui, and once paid, it is non-refundable. (Consider trip insurance if you're the "what if" type.)
When you sign up for your seminar slot, please also let me know that you do or do not want to stay in the studio condo unit. If you do wish to reserve that, I'll send you a link to pay a $100 lodgings deposit that is also fully refundable for 7 days, with the remainder due for your accommodations likewise payable no later than 30 days before your arrival in Maui.


Here are the 2022 one-on-one seminar slots that now available to reserve with a $300 deposit:

2022 dates to come...

We Can Also Meet Here
If you'd like a two-week personal seminar with me and don't see the consecutive weeks you want listed above, email me to see if this can be arranged. Pay your $300 retreat deposit here with any major credit card, or with Paypal funds:
After you pay, please send me an email with your dates and let me know whether or not you'd like to stay in our studio unit.
Questions?
Please ask if you're not sure whether your topic falls within my area of expertise or if you have questions about accommodations or anything else.
I look forward to working with you in paradise!
Aloha,
Marcia Yudkin